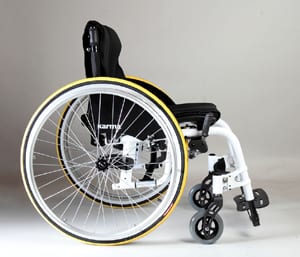 Our Active Wheelchairs are especially easy to maneuver and resemble a majority of sports wheelchairs that are out on the market today. If you live a fast-paced lifestyle and you're looking for a wheelchair that is ultra lightweight and aerodynamic, then our active wheelchairs section may be the first place you want to look.
If you need an active wheelchair that is ideal for sports and other physical activites, our active wheelchair series features a lightweight frame with special detail to the design and structure.
Special features of S-ERGO ATX series include compact dimensions with a rigid structured frame that is foldable.  It is also seat height adjustable,backrest adjustable, and many more. This is the perfect wheelchair for anyone who enjoys sport tuned agility and needs a wheelchair that can keep up with their lifestyle.
Be sure to also check out our Ultralight Weight Category with many more selections that fall within this weight category.  Also learn about all the options and accessories that can be configured with this wheelchair such as Spinergy Wheels® and Frog Legs Suspensions ®.  Some of our ERGO series wheelchairs can also have various options to be added in which would all itself to challenge the active wheelchair category and nature of a sportier wheelchair.  The options are immense so be sure to consult with your dealer today!